Performance Vector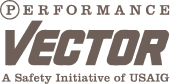 Safety's One Of Your Core Values – We're Right There With You
Having a robust aviation safety program isn't easy, but it's vital. Many kinds of threats intersect with your operation, challenging your resources and in-house expertise. Performance Vector has a simple goal: to help boost the scope and impact of your safety program. Your Performance Vector benefit connects you to world class providers of services that fortify leading safety programs across the industry. But it's not just networking. As a stakeholder we stand with you and apply some of our resources right alongside yours to help your program go further—safely.
Easy To Use For Operators Of Turbine-Powered Aircraft Or Those With Multiple Policies
Performance Vector is available to USAIG policyholders who insure turbine-powered aircraft – regardless of fleet size – or who place multiple policies with USAIG. One Performance Vector safety option can be selected each policy year at no cost. To activate your benefit, decide which Performance Vector option you want, identify a contact person in your organization to coordinate services, and tell your aviation insurance broker or underwriter what and who those are.
Comprehensive Options, Every Year
The list of Performance Vector program options covers a wide spectrum of safety program services vital to building and maintaining strong safety cultures. Eligible policies can select one Performance Vector option each policy year. Each time your policy renews, so does the opportunity to select again. Because we periodically adjust the slate of available options in step with policyholder feedback and changes in the safety services sector, we recommend reviewing the available options after each renewal. Doing that keeps you up-to-date and enables the best strategic use of your benefit. We've also arranged USAIG policyholder rates with many of our industry-leading providers, so check with us if you need additional services beyond what is available through the Performance Vector offers from any of them.
Use this document to start exploring your many options in Performance Vector.
Put Your Achievement on Display
When you use Performance Vector services, you receive an achievement plaque to display as a symbol of your dedication to safety.

ELIGIBLE POLICYHOLDERS CAN CHOOSE ONE OPTION ANNUALLY
To ease your review, we've sorted your options into two categories: Training-Focused and Safety Management program options.
Training-Focused Options
Click here for more information on training-focused options.



We currently have seven training-focused options you can choose from. Click each title to learn more.

Up to two pilots learn the essentials of land and water evacuations, smoke and fire, hypoxia awareness, wet-ditching and search and rescue procedures. This intensive one-day course is held at training centers in Van Nuys, CA (every Wednesday), Fort Lauderdale, FL (every Wednesday), Dallas, TX (every Sunday and Wednesday), and Morristown, NJ (every Sunday and Wednesday), and proves especially valuable for pilots who regularly carry passengers without a cabin crew member. For more information on upcoming available training dates, click here.

Curriculum includes:

Land and Water Evacuations Using Full Motion Cabin Simulator
Crew/Passenger Communication
Hypoxia Awareness Training including Physiology and Hypoxia Induction Using HAT Trainer
Smoke and Live Fire Training Using Walk-in Fire Trainer
Survival Search and Rescue Using Rafts and Life Vests
Wet Ditch Using Underwater Egress Dunker

Training meets requirements for FAR Parts 91, 91K, 135, as well as ISBAO. Training records provided after successful completion.

A two-day course for one jet pilot that addresses the fundamentals of UPRT and embeds core skills and knowledge to recognize and solve all stall and airplane upset conditions. Academic and in-flight training concepts and methods are directly applicable to high performance jet airplanes. This customized course can be scheduled at APS's Phoenix, AZ location. Training includes 8 hours of classroom instruction covering:

Stall and airplane upset aerodynamics
Upset precursors; recognition, prevention and recovery techniques
Instrument upset recognition, prevention and recovery techniques
Stall/spin awareness, prevention and recovery techniques

Interspersed at appropriate points in the academics are three flights conducted in an Extra-300L aircraft with an expert APS UPRT instructor pilot covering:

Familiarization, foundational Loss of Control In-flight mitigation concepts, and primary control strategies
Advanced stalls, traffic pattern stalls, and all attitude maneuvering
Diverse airplane upset events, wake turbulence encounters, and alternate control strategies

Click here to view video with more information on the Click here to view video with more information on the APS 2-Day/3-Flight Upset Prevention & Recovery Training Course.


Have your fatigue policies reviewed by experts – Pulsar Informatics will review your fatigue management (e.g. duty/rest) policies and protocols and provide a confidential assessment. The intent is to 'take a fix' and help you visualize where you stand with respect to alignment with industry standards and best practices. The process explores how effectively you've set and communicated fatigue management policies, and offers suggestions for improvement.
Then, strengthen fatigue knowledge across your organization – Integrate expert, science-based instruction on human fatigue. Conveniently schedule a live webinar training session by Pulsar Informatics for your personnel to review fatigue risk management terms and principles, highlight fatigue hot spots and causes, and go over fatigue mitigation strategies and techniques—vital information all aviation personnel should know! Access to a recording of the webinar is provided afterward.

Click here for more information on the Pulsar Fatigue Risk Management Policy Training Package.

(Four 1-hour Sessions)

This proactive course, utilized by major airlines, MROs, and flight operations, provides specific knowledge and tools to mitigate errors in your operation, before they cause minor or major losses. It's fully web-based—with a live broadcast, recording, and handout—allowing you to train at your own convenience. Each webinar is approximately 45 minutes, with an extra 15 minutes allotted for Q&A with the instructor. Recordings will be available for 60 days after the live version airs, and handouts are yours to keep. Successful completion of this course and all tests results in 4-hours of IA Renewal credit.

Click here for more information on the Aviation Maintenance Never Events Webinar Series.
Click here for DOM Magazine article on the Aviation Maintenance Never Events webinar series.
Click here for brief video on the AMNE webinar series.

NATA Safety 1st Training Center (SFCT) Subscription
NATA Safety 1st is the leading training resource for general and business aviation aircraft ground handling. The SFTC utilizes a ratings-based approach to training that shifts emphasis away from achieving a single certificate and refocuses team members on individual functional areas of their job. Rather than completing hours and hours of training to receive a single certification, trainees earn ratings as they complete courses and gain experience. Each rating corresponds to a specific job function. The SFTC includes over 60 courses in the following areas:

Basic Ramp Safety and Security
Fundamental Ground Handling
Aircraft Towing
Fueling and Fire Safety
Health and Safety (OSHA)
Human Factors
General Aviation De/Anti-icing
Hazardous Materials
Regulated Garbage
Supervision

This Performance Vector offer covers establishment or renewal of a SFTC annual subscription for up to 14 training slots (additional trainee slots can be added at policyholder's expense). This provides unlimited use of all SFTC content for the subscribed organization's personnel for 1 year (12 months) from subscription inception with no additional cost if slots are reassigned due to employee turnover. NATA normally requires subscribers to first be NATA members, however for any USAIG policyholder that opts for an initial SFTC subscription as their Performance Vector benefit while not already a NATA member, NATA will waive the membership requirement for the first year of the subscription. A policyholder that wishes to renew a subscription into a second/subsequent year (either through Performance Vector or by self-funding external to the Performance Vector program) must become a NATA member (annual dues required) to continue as a subscriber.

The program that's been boosting helicopter safety since 1997 is now part of Performance Vector. Helicopter operators who choose this option receive credits they can use to reduce costs for annual simulator or in-aircraft flight proficiency training courses with select providers.

Participating Safety Bucks Training Centers

Airbus Helicopters North America Training Center

Contact: Lindsay Cunningham
Telephone: 972-641-3613
Website

Bell Training Academy

Contact: Neil Barton
Telephone: 817-280-8567
Website

EuroSafety International

Contact: BAM Morando
Telephone: 702-710-1237
Website

Helicopter Institute, Inc.

Contact: Randy Rowles
Telephone: 817-224-2500
Website

Leonardo Helicopters – Philadelphia USA Training Center

Contact: Massimo Bichisecchi
Telephone: 215-501-0835
Website

MD Helicopters, LLC

Contact: Keith Lacy
Telephone: 480-346-6092
Website

HTIGlobal

Contact: Pablo Linares
Telephone: 817-301-2659
Website

This option focuses on optimizing and standardizing organizational aviation training plans. Advanced Aircrew Academy will do an in-depth review of current training practices, integrating operational specifics, applicable regulatory and certification requirements, safety data the operator has collected, and industry best practices. A report from this process illuminates ways to strategically refine and improve the overall training plan. Four eLearning modules can then be selected for delivery to up to five trainees from Advanced Aircrew Academy's comprehensive catalog of over 60 General Operating Subject training modules. Modules that satisfy a variety of Federal Aviation Administration (FAA), International Standard for Business Aircraft Operations (IS-BAO), and Business Aviation Safety Consortium (BASC) training requirements are available (click here to see the complete catalog).

Selecting this Performance Vector option provides the training program review, a confidential report of findings back to the operator, and selection of four eLearning modules for delivery for up to 5 trainees. The training modules can be delivered all at once or set up as quarterly focus areas to support a cyclical cadence of training activities. Additional user logons (beyond the 5 included) and/or additional training topics can be purchased from Advanced Aircrew Academy at a USAIG-member discounted rate. Eligible policyholders that have already undergone a training program review and are utilizing ongoing annual training services with Advanced Aircrew Academy can still use this offer. In that case, USAIG will contribute up to $2500 toward the policyholder's annual training costs with Advanced Aircrew Academy.

Click here for more information on the Advanced Aircrew Academy program.

Click here to view video with more information on Advanced Aircrew Academy program.
Safety Management Options
Click here for more information on safety management training options.


We currently have eight safety management options you can choose from. Click each title to learn more.

Adaptable to business aircraft flight operations of any size, mission and type of aircraft, and fully aligned with the ICAO/FAA "Four Pillars" of Safety Management concepts, PRISM SMS products are designed to help you plan, effectively implement and manage your safety management systems (SMS). Argus International, a global leader in aviation safety management, created PRISM SMS to help operators effectively boost safety performance while meeting the increasing challenges created by emerging regulations and standards.

PRISM SMS offers two subscription levels – PRISM Essential and PRISM Pro. USAIG policyholders that are eligible to participate in Performance Vector may choose the level that best aligns with their planned or existing SMS practices.

PRISM Essential – Launch or enhance your hard-copy-based SMS with this comprehensive service that includes support from PRISM's experts and delivers a monthly stream of self-audit checklists and other materials to guide dynamic SMS and internal evaluation programs. Choose this option and USAIG will cover your full subscription cost.
PRISM Pro – Deploy and administer your SMS with this full-featured structure, using customizable, web-enabled tools for flight risk assessment, hazard reporting, SMS administration and more. Choose this option as a new subscriber and pay nothing for the first year. Choose it as a returning Pro user for a substantial subscription cost saving.


Click here for more information on the PRISM Safety Management System Solutions.

Receive a year-long subscription to the Fleet Insight™ web app with up to 5 included user logins to aid in proactively managing fatigue across operational schedules. Fleet Insight can be used to identify fatigue hotspots in schedules and crew pairings, view summary statistics, and design optimal fatigue countermeasures. Access to Fatigue Meter™, an associated iPad-optimized app used by pilots, flight attendants, and maintenance personnel to evaluate the fatigue impact of their flight and duty schedules, is also included for the same 5 users. Fatigue Meter can be used as a stand-alone tool or integrated with popular SMS and scheduling platforms. Choosing this as your Performance Vector selection provides a first-year subscription at no cost for new subscribers, or a substantial discount on the annual renewal fee for continuing Fleet Insight subscribers. If needed, operators can purchase additional user logons (beyond the 5 included) from Pulsar Informatics at a discounted rate.

Click here for more information on Pulsar Fleet Insight Fatigue Risk Management Systems.

Help preparing for your registration audit, whether you are seeking first-time registration or are looking to move to the next stage.

This Performance Vector option has two components:

A) USAIG will purchase a copy of the IS-BAO or IS-BAH standard for you, making your organization a registered holder of the standard. Note: holding an organizational copy of the standard is a requirement to attain IS-BAO or IS-BAH registration.

B) Paid tuition for one attendee at an IS-BAO or IS-BAH workshop as a non-accredited attendee (travel and lodging are not covered). Note: policyholders can opt to receive two paid workshop tuition's if they already hold an organizational copy of the standard and therefore do not need it purchased again.

Workshop schedules are set and published by IBAC:

Polaris Aero is an aviation software company specializing in risk analysis and safety management systems (SMS). By transforming data into actionable insights their applications help aviation professionals learn valuable lessons before an incident occurs, thus advancing organizational safety while improving operational effectiveness and ability to meet or exceed international requirements. Polaris Aero's passion for safety is reflected in its software, which is designed to ensure your organization never forgets a lesson learned.

VOCUS® is Polaris Aero's cloud-based safety intelligence platform that unifies its software applications into a seamless user experience. VOCUS utilizes the latest technologies to streamline the input, processing, and sharing of critical safety-related information, including data from third parties, on a secure, scalable, and reliable platform. Component applications include:

VOCUS SMS: a next-generation safety management system that facilitates compliance with ICAO Standards and Recommended Practices (SARPs) utilizing advanced technology, integrations to GE C-FOQA and FAA ASIAS, and the latest design concepts to simplify the complexity of safety management.

VOCUS FlightRisk: an advanced risk assessment system that automatically identifies the hazards and risk mitigation procedures most relevant to a flight. Customers can use FlightRisk manually or integrated with a scheduling system, and within any SMS, though it is most integrated with VOCUS SMS.

VOCUS SMS eLearning: an online named-person training program offered in either "Fundamental" or "Advanced" Curriculum. The training is ideal to ensure employees are trained recurrently on SMS principles.

Eligible policyholders can apply their annual Performance Vector benefit toward initiating or renewing annual subscriptions to the Polaris Aero services shown above. USAIG will place a contribution of up to $2500 with Polaris Aero toward subscription expenses for each policy year that this option is selected, significantly reducing direct cost to employ these services.

Click here for more information on the Polaris Aero VOCUS offer.

The ACSF ASAP provides a robust process to collect, analyze, and propose corrective action for employee-reported safety hazards, incidents or concerns. De-identified data from ASAP reports is also archived into a growing database of safety information to support learning and continuous improvement across the industry. Participating organizations execute a Memorandum of Understanding (MOU) with ACSF and the FAA, and their employees gain a straightforward online process to enter safety reports. An event review committee with members from ACSF, FAA and ASAP-participating organizations reviews every report, identifies and communicates corrective actions as appropriate, and approves qualifying reports for archiving. This frees participating organizations from those functions and ensures a standardized, unbiased, and timely process. To foster an open and non-punitive context, the FAA applies favorable consideration for reports where violation of the FARs may be implied, but no malicious intent is indicated. In keeping with the ASAP MOU and the FAA's new compliance philosophy, no FAA administrative or enforcement action is used for reports accepted into ASAP.

The requirements to become an ASAP participating organization are:

Be an ACSF member (annual organizational membership dues apply)
Pay an annual ASAP Administrative fee
Execute an ASAP Memorandum of Understanding (MOU) with ACSF and FAA

Fees for ACSF membership and ASAP participation are predicated on the operators' fleet and workforce size, respectively. For policyholders with 25 or fewer employees and/or fleets up to 6 total aircraft, selection of this Performance Vector option results in USAIG covering both the annual ACSF membership dues and the annual ASAP administrative fee. Policyholder organizations larger than that can still utilize this offer, but in that case USAIG covers only the annual ACSF membership dues and the operator must self-fund its ASAP fee.

Click here for more information on the Air Charter Safety Foundation Aviation Safety Action Program.

Aircare Access Assistance provides a host of mission safety support services, including on-demand in-flight emergency medical assistance by board-certified emergency physicians anywhere in the world. In addition, this option provides free inflight medical training at any regularly scheduled Aircare FACTS training course; ongoing training with test calls and training scenarios; medical kit management including tracking and notification of expired items; and 24/7/365 crew safety and medical support services such as fit-for-flight consultations, referrals, lost prescriptions and more. Subscribers to this service qualify for a complimentary one-year subscription for one aircraft, and are eligible for substantial discounts on the service in subsequent years.

Click here for more information on Aircare Access Assistance.

Black Swan Solutions®, Empathia's crisis management service division, assists organizations in preparing for, responding to, and recovering from the human impact of crises. This turnkey approach integrates the expertise of experienced crisis professionals with state-of-the-art technology to provide affected people with timely and accurate information, as well as the human support they need, during and after a crisis.

Selecting this Performance Vector option provides up to 6 hours of consultative support to optimize and align the ERP for smooth coordination in the event it's activated (first year only), access to web-based and quarterly training to keep internal emergency response team members knowledgeable and current, and training in and integration with Empathia's proprietary Disaster Information Management System (DIMS). As a Black Swan Solution's® client, the policyholder has expeditious access to a scalable array of specialized resources and services that can be activated to help meet the response and recovery demands of an emergency. Black Swan's ready-response services include a dedicated 24/7 contact center staffed by crisis counselors to field calls from impacted parties, assistance with emergency contact notification and media relations, deployment of scalable family assistance resources, critical incident response and management services to meet the ongoing needs of impacted personnel, organizational and management consultation and post-incident review and planning support.


Click here for more information on Black Swan Solutions®, Crisis Management Services by Empathia.
Enroll Your Client in Performance Vector
Use this convenient online form to provide your client's policy and contact information to enroll in Performance Vector programs.
Printer Friendly Version